The traditional Mediterranean diet is the heritage of millennia of exchange of people, cultures, and foodstuffs throughout the Mediterranean basin, with diverse food consumption and production patterns, in continuous evolution representing the particular historical and environmental mosaic that is the Mediterranean. This diet was the basis of food habits until the mid-twentieth century in all countries of the region, but it is now progressively disappearing because of the widespread dissemination of Western-type lifestyle and globalization.
The Mediterranean diet, recognized as a healthy dietary pattern and a healthy lifestyle, is still an underexplored resource for valuing biodiversity and understanding human nutrition. More than just food, it is also a potential model of sustainable development, although this too has not been fully realized. In the Mediterranean region, there is widespread awareness of the social, cultural, health and economic dimensions of food, shared by all Mediterranean people.
It must be emphasized that there is not one single Mediterranean diet, but rather a number of variations on a basic theme adapted to individual country's cultures. Therefore, the Mediterranean diet is more than just a defined diet, but it represents the plurality of various cultural expressions of different Mediterranean food cultures and lifestyles.
The term "Mediterranean diet" implies the existence of some common dietary characteristics in Mediterranean countries such as high amounts of olive oil and olives, fruits, vegetables, cereals (mostly unrefined), legumes, and nuts, moderate amounts of fish and dairy products, and low quantities of meat and meat products. Wine in moderation is acceptable when it is not contradictory to religious and social norms.
In the early 1980s, the notion of 'sustainable diets' was described by Gussow and Clancy to recommend diets that are healthier for the environment as well as for consumers. The concept of a 'sustainable diet', borrowed from 'sustainable agriculture,' promoted activities that minimized the waste of natural resources and addressed food production for local and seasonal consumption.
With the food globalization process and the increased production of agricultural systems, and with no attention paid to the sustainability of ecosystems, the sustainable diet's concept was neglected for many years. But recently interest in sustainable diets has again been raised by international scientific societies and institutions.
There is growing recognition of the complexity of defining sustainability, as well as a growing body of evidence of the unsustainable nature of current diets. A definition of sustainable diets should address the sustainability of the whole food chain while acknowledging the interdependencies of food production systems and food and nutrient requirements.
The notion of a sustainable diet would have been curious a few hundred years ago when people obtained the majority of their foods out of their ecosystems. Biodiversity was valued and utilized; ecosystems and agro-ecological zones produced the foods that they had produced for millennia.
According to FAO estimates, is that the number of undernourished people has increased to nearly one billion. This number reflects only the dietary energy supply, whereas micronutrient malnutrition exists on an even larger scale. In addition to the problems of undernourishment, obesity and its associated chronic diseases are rising. This, coupled with the alarming pace of food biodiversity loss and ecosystem degradation, makes a compelling case for re-examining agricultural systems and diets and at the same time reaffirms the notion that human health cannot be isolated from that of ecosystems.
The FAO has also estimated that by 2050, in order to satisfy the needs of a growing and richer world population with increased demand for animal products, food production will have to increase by at least 60 %. This will be a major challenge for food security and sustainability, considering that natural resources are already increasingly stressed and degraded, with the additional negative effects of climate change.
In 2010, participants at the international symposium on 'Biodiversity and Sustainable Diets: United against Hunger', reached a consensus position on the following definition of sustainable diets: 'Sustainable diets are those diets with low environmental impacts which contribute to food and nutrition security and to a healthy life for present and future generations. Sustainable diets are protective and respectful of biodiversity and ecosystems, culturally acceptable, accessible, economically fair and affordable; nutritionally adequate, safe and healthy; while optimizing natural and human resources.'
Despite the fact that the Mediterranean diet is well documented and acknowledged as a healthy diet, paradoxically, it is being abandoned, mainly by the young generations in most Mediterranean countries.
Such a decline in the Mediterranean's healthy diet patterns was already predicted in 2005 in the Mediterranean Strategy for Sustainable Development report, issued by the United Nations Environment Program, as follows: "Mediterranean agricultural and rural models, which are at the origins of Mediterranean identity, are under increasing threat from the predominance of imported consumption patterns. This trend is illustrated in particular by the decline of the Mediterranean dietary model despite the recognized positive effects on health"
Historically, starting from the 1960s, the Mediterranean diet began to be studied as a model of a healthy diet with reduced morbidity and mortality.
Then, in the early 1990s, the Mediterranean diet as a plant-centered diet, consequently lowered demand on soil, water, and energy resources, began to be researched by Joan Dye Gussow (beforehand named) as a sustainable dietary pattern, which also considers the overall impact on the ecosystem.
In the last decade, the Mediterranean diet has become the object of increasing studies on its environmental sustainability, because of its mainly plant-based dietary pattern and its lower greenhouse gas emissions and lower water footprints, when compared to current Western dietary patterns.
The following four sustainable benefits of the Mediterranean diet are highlighted: (i) major health and nutrition benefits; (ii) low environmental impacts and richness in biodiversity; (iii) high sociocultural food values; and (iv) positive local economic returns.
Data from a series of cohort and case–control studies have shown that a high intake of foods typical of the traditional Mediterranean diet pattern (MDP) is associated with a reduced risk for developing various types of cancers, including upper digestive tract, stomach, colorectal, pancreas, liver, and selected hormone-related cancers such as endometrial cancer.
Surveys have repeatedly shown that adherence to an MDP is also associated with a healthier body weight, reduced waist circumference as a marker of central obesity, and lower incidence of the metabolic syndrome and type 2 diabetes. The Mediterranean diet may positively influence the ageing process by delaying the evolution of cognitive decline linked to Alzheimer's disease and vascular dementia, which is often documented a long time before the clinical diagnosis of dementia.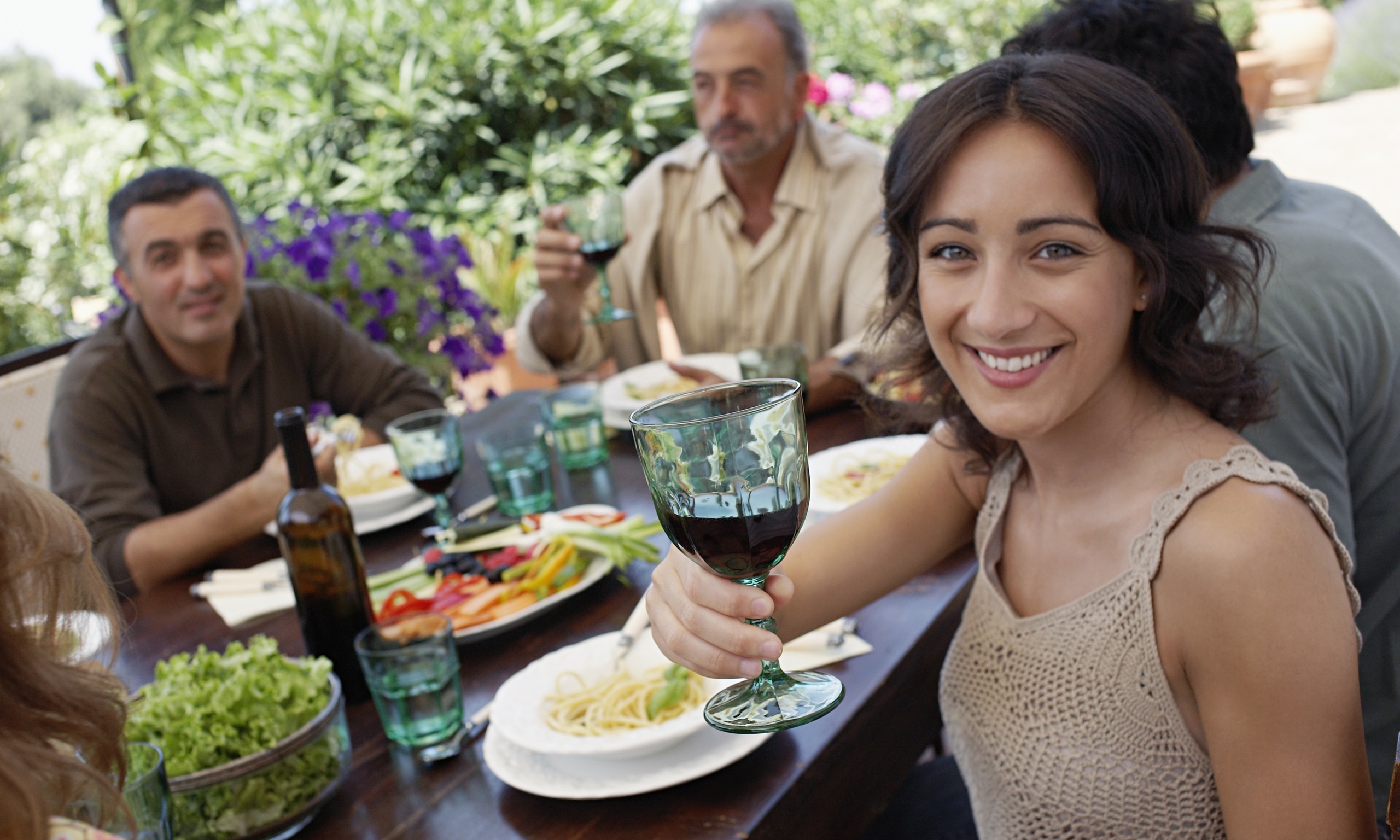 On the other hand, a plant-based diet with low consumption of animal products and thus has a smaller water footprint and lower greenhouse gas emissions, compared with other current dietary patterns. Increased adherence of the Spanish population to the MDP was reported to have a marked impact on all standard environmental footprints: reduce greenhouse gas emissions, land use and energy consumption, and to a lower extent water consumption, while on the contrary, adherence to a Western dietary pattern increases all these parameters. In an Italian study, adherence to the MDP was shown to significantly reduce the food environmental footprint on natural resources especially for water consumption.
The Mediterranean diet encourages the use of a wide range of cereals, fruits and vegetables, not only cultivated products but also wild species, thus sustaining them together with the local, indigenous and traditional knowledge about their use. The seasonal consumption of fresh and local products, biodiversity, variety of foods (especially fruits and vegetables of different colours), traditional culinary activities.
Additionally, the Mediterranean diet expresses the care in food preparation, moderation in portion size and avoiding waste, and is linked to the high cultural, social and economic value that food has for all Mediterranean peoples. In Mediterranean cultures, eating is important over and above the physiological need for energy. Family and communal meals are a moment of conviviality and importance, as well as fun and pleasure (more or less explicit), and represent a daily opportunity for social exchange and communication. The Mediterranean diet is a socio-cultural historical heritage intimately linked to the lifestyles of the Mediterranean peoples throughout their history, with a myriad of food traditions, religious and cultural differences, and the succession of different dominant civilizations.
At the end of 2010, the Mediterranean diet was inscribed in the UNESCO Representative List of the Intangible Cultural Heritage of Humanity, and described as follows: "The Mediterranean Diet – derived from the Greek word díaita, way of life – is the set of skills, knowledge, rituals, symbols, and traditions, ranging from the landscape to the table, which in the Mediterranean basin concerns the crops, harvesting, picking, fishing, animal husbandry, conservation, processing, cooking, and particularly sharing and consuming of food"
As freedivers with the aim to live in harmony with nature following a healthy lifestyle maybe it worth considering incorporating this diet in our life. Let's organize a Mediterranean cooking workshop soon.
References:
B. Burlingame et al. (2011), Sustainable diets: the Mediterranean diet as an example, Public Health Nutrition: 14(12A), 2285–2287
S Dernini et al. (2016), Med Diet 4.0: the Mediterranean diet with four sustainable benefits, Public Health Nutrition: 20(7), 1322–1330
S. Dernini et al. (2015), Mediterranean diet: from a healthy diet to a sustainable dietary pattern, Front. Nutr. 2:15